Twin Falls Farm
Self-catering cottages situated in the unique Karkloof Mistbelt Forest, via a rural KwaZulu Natal setting.
Small cottage "Chimes" sleeps 4 (2 bedrooms with a double bed in each, and each having en-suite bathrooms with bath, shower and toilet).
Larger cottage "Ellem" sleeps 8 (

3 bedrooms: 1 bedroom has a double bed and en-suite bathroom with shower and toilet, the 2nd bedroom has a double bed, and the 3rd bedroom has 2 bunkbeds. There is a 2nd bathroom with bath, shower and toilet, and there is also a 3rd single toilet

).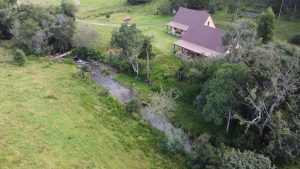 Cost is R375 per person. A minimum of 2 nights stay is required. No charge for children under 2 years old, if they are not occupying a bed. If you need more persons to stay, the space is very large as shown in the pictures. You are welcome to bring extra mattresses and bedding. We would then charge R100 per person per night for this facility.
Kitchens are equipped with a stove, microwave, toaster, kettle & fridge. There is also a beautiful portable braai. You do need to bring your own charcoal. Ellem has crockery and cutlery for 12 people. Chimes for 6 people.
Day visitors are charged R50 per person.
No pets allowed – this is important to preserve the pristine, indigenous natural environment.
Access
45 minute drive from Pietermaritzburg.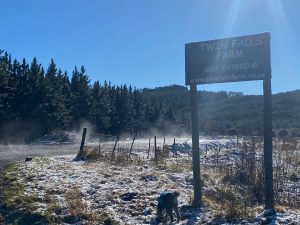 The road from Howick is tarred for 21kms, you then travel on gravel for 3kms until you see the Twin Falls Farm sign on your left.
You then travel for 3kms along a farm road. Smaller, low slung vehicles will need to negotiate this slowly.
GPS Co-ordinates: 29°17'11.4″S 30°19'37.5″E